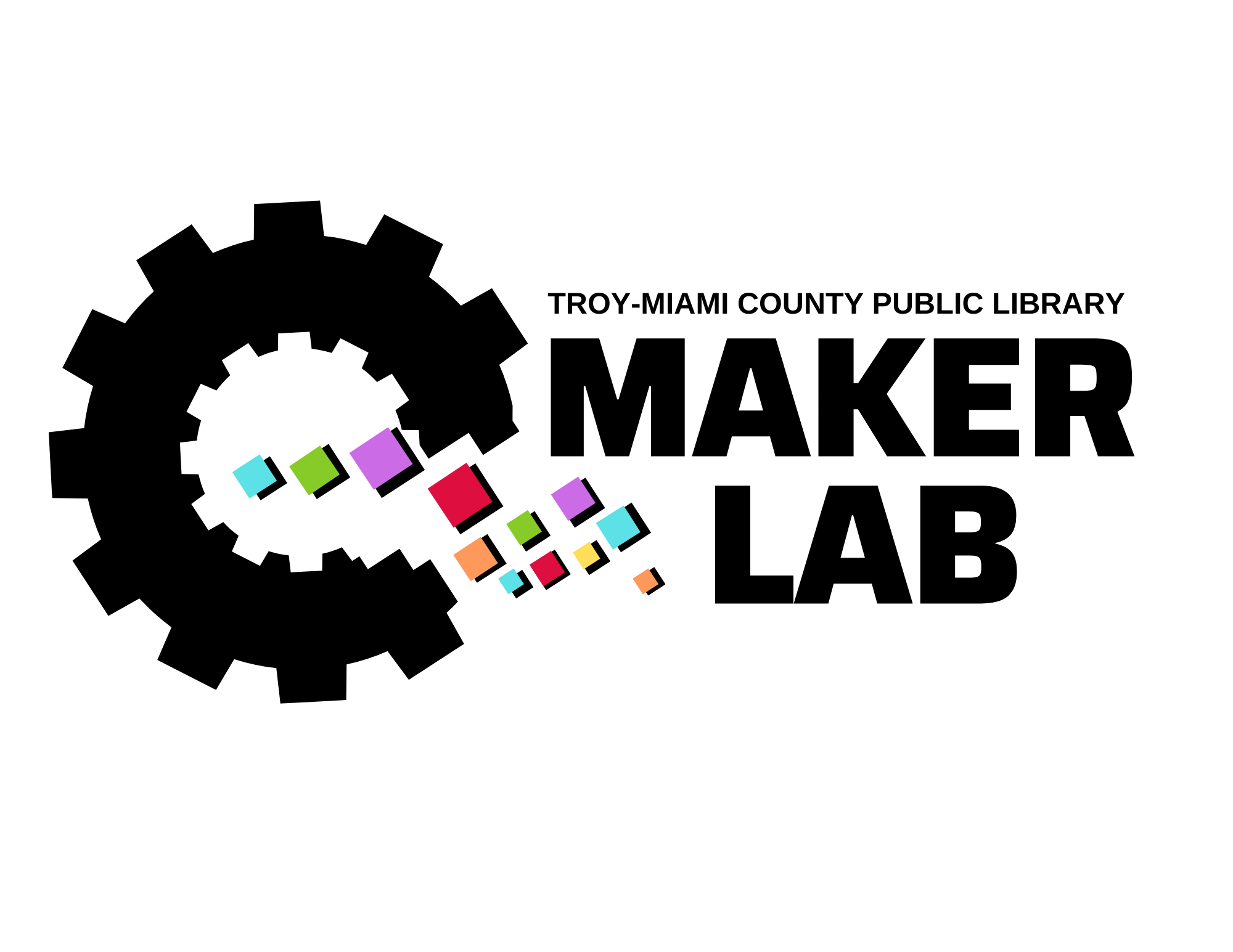 The Maker Lab is OPEN!
The Maker Lab is a DIY space where people can craft hands-on projects while sharing ideas, equipment, and knowledge.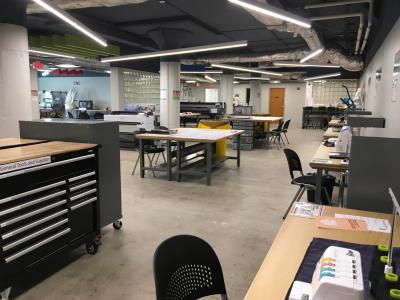 Patrons will need a library card and a signed waiver to use the space.
Library Card (Troy-Miami County Public Library, Bradford Public Library, or Dayton Metro Library) - Get a library card.
A signed Maker Lab Waiver
Most equipment in the Maker Lab requires a reservation
Reservation vs Drop-In
Patrons are restricted to 1 reservable machine/station for a maximum of 4 hours per day.
     Reservations
schedule online at least 24 hours before reserved start time
time slot and equipment available
priority staff assistance
     Drop-ins
schedule in-person at the time of equipment use
time slot and equipment not guaranteed to be available
limited staff assistance
RESERVE HERE
Use of equipment is always FREE, view the Consumable Material Prices
Remember, the joy of DIY projects lies in the process as much as the final outcome. Enjoy the experience, learn new skills, and be proud of your accomplishments!
For the best experience in the Maker Lab, patrons are encouraged to take advantage of the Self-Guided Training links available for many of our machines and software.
Staff are available to assist with issues and answer questions.
---
Do It Yourself Expectations
Prioritize Safety: Always prioritize your safety and the safety of others. Follow safety guidelines, wear appropriate protective gear, and use tools and equipment responsibly.
Respect the Space and Materials: Treat the makerspace, tools, and materials with care. Keep the workspace clean, organized, and return items to their designated places after use.
Learn and Share: Embrace a collaborative mindset. Learn from others, share knowledge and resources, and engage in constructive discussions.
Plan and Research: Take the time to plan your projects carefully. Research techniques, materials, and tools needed to ensure successful completion.
Acquire Necessary Skills: Invest time in learning and acquiring the required skills and knowledge. Seek guidance from experienced individuals or attend workshops if needed.
Use Appropriate Tools and Equipment: Utilize the right tools and equipment for the task at hand. Learn how to use them safely, following manufacturer's instructions.
Follow Instructions: Read and follow instructions carefully. Whether it's a project guide, tutorial, or manual, understanding and adhering to instructions can lead to better results.
Be Creative and Problem-Solve: Embrace creativity and personalize your projects. Develop a problem-solving mindset to overcome challenges and find alternative solutions.
Be Inclusive and Respectful: Foster an inclusive and welcoming environment. Respect others' projects, provide constructive feedback, and treat everyone with respect regardless of their background or abilities.
Clean Up and Maintain: Clean up your workspace after completing a project. Properly store materials and tools and regularly maintain and inspect your creations for longevity and functionality.
---
What is a Makerspace?
Makerspaces are places where people with shared interests, especially in computing and technology, can gather to work on projects while sharing ideas, equipment, and knowledge. It's a place for hands-on learning and creating with tools that may not otherwise be accessible to the general public.
The Troy-Miami County Public Library Maker Lab offers the community the opportunity to use equipment they would not normally have access to. The space includes a 5,000-square-foot maker space and classroom as well as multiple public meeting rooms and administrative offices for the library.
What is in the TMCPL Maker Lab?
The Maker Lab currently houses 3D printers and a 3D scanner, a laser cutter, vinyl printer, CNC milling and routing machines, soldering stations, a sublimation print station and press, embroidery and sewing machines, an electronic cutter, an engraver, a UV printer, an audio recording studio, hand tools, safety gear, and more. Additional equipment will be added as there is demand and if the budget allows.
For group tours or more information, please contact Elijah Stephens at 937-573-2542 or at estephens@tmcpl.org.
The Maker Lab is located at 510 W. Water St., Troy, Ohio 45373.
Maker Lab Hours:
Monday-Thursday: 10 a.m. - 7 p.m.
Friday -Saturday: 10 a.m.- 4 p.m.
Sunday: Closed